(Just a quick note about my research for this entry. I've had Mrs. Hernández on my list for a while, based on the paragraph about her on the National Women's History Project (NWHP) resources website. When I went to do further research, it was quite difficult to find anything about her on the web. There are links to books, and I suppose I could get them to read (and I might do just that), but hardly any decent biographies online. I did find one, on the Texas Historical History Association website, which is where the bulk of this info was found. And there is ONLY one photo, which was on the NWHP site.)
María Rebecca Latigo de Hernández was born in 1896 in Garza García, outside of Monterrey, Nuevo León, Mexico. Her father was a professor. This leads me to believe that education was important to her family, and even though she was a girl, her parents still encouraged her to learn.
She taught elementary school in Monterrey, Mexico. It's likely that she immigrated to Texas as part of the flood of people leaving Mexico during the chaos of the Mexican Revolution.
In 1915, she married Pedro Hernandez Barrera in Hebbronville, Texas. The family moved to San Antonio in 1918, where they opened a grocery store and bakery, and set about raising their family, which eventually grew to ten children.
They were quite active in their community, and eventually became politically active. In 1929, they helped found the Orden Caballeros de América (the Order of Knights of America), an organization dedicated to civic and political activities to benefit Mexican Americans and Mexican immigrants, especially in educational matters. While the organization primarily benefited male business owners of the Mexican American community, its educational goals likely benefited schooled aged children of both sexes.
In 1933, María Hernández helped organize the Asociación Protectora de Madres, which provided assistance to expectant mothers.
In 1934 the Hernándezes helped organize
La Liga de Defensa Pro-Escolar
, an organization dedicated to obtaining better facilities and better education for the West Side Mexican community.
In 1932 María became San Antonio's first Mexican female radio announcer, and in 1934, she spoke on the "Voz de las Americas" program to promote Council 16 of the
League of United Latin American Citizens
, organized to promote equality for Mexican Americans in all spheres of life. She was the only female speaker at the first meeting in 1934. The league was officially organized in December 1934, and she supported its efforts until 1940 and again in 1947, when it was reorganized.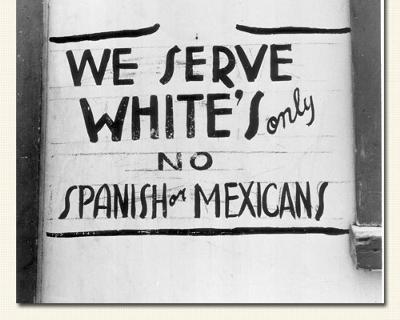 In 1938 she took up the cause of women workers' rights in the
Pecan-Shellers' Strike
when they stopped working to demand better pay and better working conditions.
In 1939, she was part of a group of women to visit Mexican president Lázaro Cárdenas to express good will between Mexico and the Mexicans in the United States.
In 1945 she published her essay "México y Los Cuatro Poderes Que Dirigén al Pueblo," in which she asserted that the domestic sphere was the foundation of society and mothers were the authority figures who molded nations. Around this same time, she organized Club Liberal Pro-Cultura de la Mujer, to build on those ideas.
Over the years, she made hundreds of speeches promoting equality for the Mexican American community. In 1968 she appeared regularly on television in San Antonio to speak about education and social progress on a program sponsored by El Círculo Social Damas de América. In December of that year, she and her husband were also invited to testify at the San Antonio hearing before the United States Commission on Civil Rights, where they argued for changes in education to reform the embarrassing inaccurate portrayals of Mexican Americans and other minorities in the curriculum.
In 1969 she was elected to the positions of treasurer of the order's board of directors and president of Círculo Social. At the order's fortieth anniversary she gave the keynote address. In 1970, continuing to grow her political activism, she became joined the Raza Unida party and in July of that year served as a keynote speaker at its statewide conference in Austin. In 1972 she and her husband toured South and Central Texas in support of the party's gubernatorial candidate Ramsey Muñiz and State Board of Education candidate Marta Cotera. Clearly, she had become an important voice for Mexican Americans in her community, and around the entire state of Texas.
María Hernández died of pneumonia on January 8, 1986, and was buried in the plot of the Orden Caballeros de América outside of Elmendorf, a symbol of the respect and prestige she had earned through her life's work.
If you like the work I do here on SRPS, please support me!